If you're looking to make a little extra money, but don't want to work a typical 9-5, Instacart may be an option you're looking into. But you may be wondering when does Instacart pay me?
Instacart shoppers make money by shopping and sometimes delivering groceries to customers (grocery pickup is an option for customers too). Instacart pays shoppers weekly on Wednesday via direct deposit for the previous Monday through Sunday week. If you don't have direct deposit set up, they will mail you a check.
But there's more to know about shopping and driving for Instacart. Things like when shoppers get paid, how they get paid, and what happens if you don't get any orders.
Instacart's website says they offer safe and flexible earning opportunities to their personal shoppers. (source) It sounds like a great way to earn a little extra cash, right?
So let's get going!
Unhappy with Instacart? Consider DoorDash!
DoorDash is a great alternative to working for Instacart.
See how much you could be earning. Available in over 4,000 cities in the U.S., Canada, and Australia. All you need is a mode of transportation and a smartphone to start making money.
CLICK HERE to learn more about working for DoorDash!
How much does Instacart pay?
So how much can you expect to earn working for Instacart?
The average base pay for an Instacart in-store shopper is about $13 per hour. Instacart recommends a 5% tip, which is much less than the average 15% restaurant tip. But most Instacart customers will tip more than that. Employees get to keep 100% of the tips they earn.
(source)
But, the exact amount that Instacart shoppers get paid is a bit of a mystery. There was a time when Instacart boasted that shoppers could make up to $25 per hour. But after some backlash from shoppers claiming that the number was less than accurate, the amount of their pay has been kept under wraps. (source)
The gig economy is growing right now.
And it's no surprise either. You've got the flexibility to work when you want and where you want. You get to work on your own terms, and you can make as much money as you want so long as you put in the time.
Working odd jobs here and there is not a new concept. For ages, young people have been delivering newspapers, babysitting, or cutting lawns for cash.
Over time, the gig economy has evolved into what we see now. Now instead of cutting grass, it's ride-sharing services, providing services online, or even grocery delivery services like Instacart.
Unfortunately, working for Instacart isn't quite as transparent as making money cutting grass.
Instacart's pay structure is comprised of several different factors. They take into consideration:
The size of the order
What the time of day is when the order is placed
The number of items in an order
And even the size of items in an order
So, an Instacart shopper will get paid more if they are shopping for a full buggy of items during peak hours. They will get paid less during times when the store is less busy.
Instacart shoppers also get tips and bonuses for 5-star ratings.
While this doesn't seem like a lot of money on the surface, you can set your own schedule and work as much as you want.
One pain point that customers may notice is that Instacart charges higher prices at some stores.
Which stores does Instacart charge more for? How much more do they charge? Is there a way to avoid that markup? Read this recent article in case customers ask you about the Instacart pricing structure.
Just click that link to read it on my site.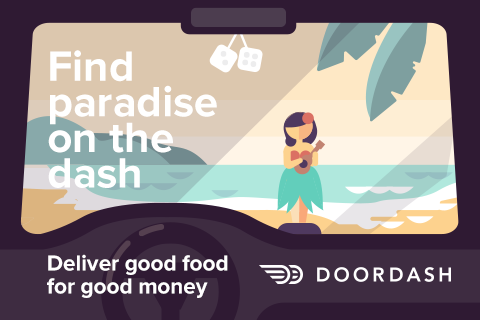 Do Instacart drivers get paid more than just tips?
Yes.
So, this was a little confusing for me when I first started looking at Instacart. I thought there was one kind of Instacart employee.
Turns out there are two kinds of Instacart employees: In-Store Shoppers and Full-Service Shoppers.
In-Store Shoppers are responsible solely for shopping and packing up orders. The customer will then come to pick up their order at a specified time.
Instarcart doesn't just do grocery delivery though.
They also shop and let the customers pick up the completed order when ready (which is often much faster than waiting for delivery).
If you want to know more about how the company operates, check out this recent article on how Instacart Pickup works.
Just click that link to read it on my site.
For grocery delivery, the drivers are also shoppers, but they are known as "Full-Service Shoppers."
I'll continue to use the term driver when I'm talking about Full-Service Shoppers, just for clarity's sake. Because drivers are also shoppers, they do get a base rate of about $13 per hour.
You may get some questions from customers about tipping.
Refer to this recent article on my site. You can use the talking points to help explain why you should receive a tip.
As a driver, you'll be happy to know that you get to keep 100% of your tips. This is a fairly recent change from their previous pay structure.
Just click that link to read that article on my site.
5% is not even a tip. How is that an option? Instacart employees deserve better pay. pic.twitter.com/Y04f3YYB32

— Mikaela (@Iris_and_Honey) January 17, 2020
Does Instacart pay weekly?
Instacart pays shoppers weekly on Wednesday via direct deposit for the previous Monday through Sunday week.
What this means is that you'll work Monday through Sunday. You'll get paid the following Wednesday morning.
Instacart uses Stripe for its online payment service. This is what will show up on your bank register when you get paid.

Instacart will expand sick pay to more shoppers https://t.co/m5ro3A3nKE pic.twitter.com/2g07hE4DPS

— The Verge (@verge) June 2, 2020
How long does Instacart direct deposit take?
If you don't have direct deposit set up, they will mail you a check.
If you need cash right away, Instant Cashout, allows you to get paid immediately. Funds are accessed using the Instacart app that has been set up with a debit card.
You can use Instant Cashout as often as you like for a fee of $0.50 per transaction.

Some Instacart shoppers plan Saturday strike over pay and work conditions https://t.co/O5KYUfi5EF pic.twitter.com/b85oblsnpO

— The Verge (@verge) October 16, 2021
Does Instacart pay for mileage?
Maybe.
Instacart says they pay mileage, but apparently, it's not listed as a separate line item in issued paychecks, so it's really hard to tell.
They do not pay at all for miles traveling to the store to begin shopping. (source)
As an Instacart driver, you are an independent contractor. This means you'll be responsible for all employment-related expenses.
You'll also be responsible for all of the usual aspects of owning a car:
Gas
Insurance
Maintenance
Auto insurance
These will all be your responsibility.
The upside to paying for all of these things as an independent contractor is that you can write off many of these expenses as business-related expenses when you file your taxes.
You can also write off the miles you drive while making deliveries.
I'm not a tax professional, so refer to your accountant or tax prep software when you file your taxes for what exactly you can write off, including the mileage rate.
Make sure that you keep accurate records of the miles traveled and records of business-related transportation expenses.
@Instacart has agreed to pay nearly $11M to resolve allegations that they misclassified their shoppers as independent contractors. Find out if you qualify: https://t.co/oon4QsKU9L #grocery #grocery #deliver #delivery #job #work #employee #employment #contractor #cash #money pic.twitter.com/ZL3JvFa3bn

— Top Class Actions (@TopClassActions) January 23, 2020
Does Instacart pay you if you don't get any orders?
No.
There was a time when Instacart paid shoppers an hourly rate as long as their Batch Acceptance Rate was greater than 80%.
However, Instacart no longer has an hourly guarantee.
Even though there is no longer an hourly guarantee, your Batch Acceptance Rate should not be overlooked. Even if you have a high overall rating, consistently get positive customer feedback, and have few issues with missing or wrong items, the Batch Acceptance Rate plays a vital role in you getting assignments. (source)
An Instantcart "batch" is a logistical term for a job. Each job may contain one or more orders. So, if you are offered a batch to shop for Sam and Dean, it's one batch but two orders.
If you want consistent large orders, you should keep that Batch Acceptance Rate above 80%.

Bad Pay, Long Hours, and a Little Hope: How Instacart Shoppers Feel About Their Jobs Right Now https://t.co/1s3Gz4vKLW pic.twitter.com/1dfLiTh7bb

— The Kitchn (@thekitchn) April 4, 2020
Does Instacart take out taxes for its employees?
No.
If you make more than $600 per tax year, they'll send you a 1099-MISC tax form. This is a standard tax form for contract workers.
You don't send the form in with your taxes, but you use it to figure out how much to report as income when you file your taxes.
Because your taxes won't be withheld from your pay, it'll be your responsibility to make sure you are paying necessary tax payments.
You'll likely have to pay quarterly. If you don't you may end up paying a late penalty to the IRS. (source)
Final Thoughts
Instacart is a great addition to the gig economy. You work on your terms when you are available to work and can make as much money as you want.
In this article, we took a look at how and when Instacart shoppers get paid. We talked about how they get paid weekly or instantly with Instant Cashout.
We talked about filing taxes and expenses that you may be able to write off on your taxes.
But most importantly, I answered the question when does Instacart pay me.
---
Photos which require attribution:
instacart 3 by Mapbox is licensed under CC2.0
[adthrive-in-post-video-player video-id="tMT53YbM" upload-date="Tue Aug 04 2020 00:00:00 GMT+0000 (Coordinated Universal Time)" name="When Does Instacart Pay Me? (A Contracted Employee's Guide)" description="If you're looking to make a little extra money, but don't want to work a typical 9-5, Instacart may be an option you're looking into. But you may be wondering when does Instacart pay me? Here's what I discovered: Instacart shoppers make money by shopping and sometimes delivering groceries to customers (grocery pickup is an option for customers too). Instacart pays shoppers weekly on Wednesday via direct deposit for the previous Monday through Sunday week. If you don't have direct deposit set up, they will mail you a check. But there's more to know about shopping and driving for Instacart. Things like when shoppers get paid, how they get paid, and what happens if you don't get any orders. Instacart's website says they offer safe and flexible earning opportunities to their personal shoppers. (source) It sounds like a great way to earn a little extra cash, right? So let's get going!"]